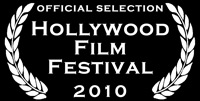 This just in: Darkening Sky been selected to participate in the 2010 Hollywood Film Festival.
The festival runs Oct. 22-25 at the Hollywood Arclight. Yay! Our first festival, and it's right here in town, at one of the nicer venues to see movies.
Specifics (date/time) coming soon. Hope to see you there!